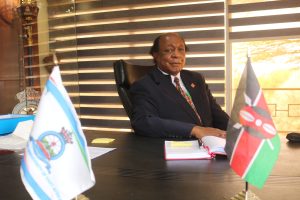 WELCOME SPEECH BY PROF. TIMOTHY H. GATARA PhD, THE VICE CHANCELLOR OF THE PRESBYTERIAN UNIVERSITY OF EAST AFRICA (PUEA) DURING ORIENTATION OF NEW STUDENTS FOR THE 2021/2022 ACADEMIC YEAR HELD ON WEDNESDAY, 26TH JANUARY 2022
First, I thank God for travelling mercies and for taking care of all of us.  On behalf of the University Chancellor, Board of Trustees, Governing Council, Management, Senate, Staff, Students and Alumni, I welcome you all to The Presbyterian University of East Africa (PUEA).
I am aware that the last few days have been hectic for you as you embarked on the registration exercise and familiarizing with yourself with various facilities and amenities in the University and its environs.
I also take this opportunity to congratulate you all for the excellent performance in the Kenya Certificate of Secondary Education examinations, which enabled you to gain admission to his great university.   This is a place to call home away from home for the next three-four years.
PUEA is faith-based institution of higher learning sponsored by The Presbyterian Church of East Africa (PCEA).  The University is founded on the ideals of Christian transformational education, professional integrity, self-reliance and service to God and humanity.  However, this University operates on an ecumenical basis and does not discriminate on the basis of religion.
It is important to note that you are reporting to the University for face-to-face learning at a unique time owing to the challenges caused by the COVID-19 pandemic.  From the end of 2019, the world has experienced the outbreak and consequent spread of CORONA virus Disease (COVID-19). 
I want to emphasize that situation is still subsisting.  The Omicron Variant of the pandemic lingers in our midst. The pandemic has brought a paradigm shift in the way people live and interact.  Every member of the society has a responsibility of protecting him or herself and others against infection by COVID-19.  As students of PUEA you are expected to observe the protocols as directed by the Ministry of Health and Ministry of Education.
Students are therefore expected to:-
Wear face mask all the time in crowded places in and outside the University.
Regularly wash your hands and sanitize
Maintain social distance as marked in various places within the university including lecture rooms, dining hall, hostels. You will also be required to abstain from kissing, hugging and shaking hands.
Other than classes only attend meetings/gatherings or sporting events authorized by the University.
Cooperate with security personnel/any other authorized person at designated points for temperature checks.
Abstain from inviting persons or groups from outside the University unless with permission from the Dean of Students.
Inform the University of any suspected case of COVID-19.
Seek immediate medical attention when feeling unwell and
Observe any other COVID-19 related requirements.
As freshers, this orientation exercise marks the beginning of your three-four-year academic journey at university level and we look forward to the successful completion of your studies when you will graduate.  The educational journey you begin today will transform your life and foster personal and professional growth and success.
As you begin this stage of your life you will be under the care of knowledgeable, dedicated and caring faculty and supporting staff.  University life enables you to maximally explore, discover, nurture and exploit your talents to the maximum.  However, as you enjoy that tremendous amount of freedom you are expected to use that freedom responsibly.  You must always obey regulations and policies stipulated by this institution and the Constitution of Kenya. 
As you adjust yourselves to begin campus life, I strongly encourage you to always respect and listen to others. You will be trained to think critically and creatively to solve your day-to-day problems and to live harmoniously with fellow students. It is your duty to exploit your academic potentials as you gradually accumulate relevant knowledge and skills.
A major issue of concern among University students today is that of negative influences. This has resulted to many cases of drug and substance abuse as well as crimes of passion to mention just but a few of the vices. This behavior has caused many students to abandon their education. Involvement in such illegal acts has sometimes ended in premature deaths and pain to parents and guardians.
The irresponsible use of social media platforms is also an issue of major concern. As noted earlier the COVID 19 pandemic has resulted in increased use of these platforms and other forms of technology. While there are noble uses for these platforms, students should be cautious about using of social media for offensive purposes, or fraudulent activities. Students are encouraged to ensure that messages posted on official University platforms like Facebook, Twitter, WhatsApp, Email and others are respectful.
By the end of your training at this University, you will be expected to serve, not to be served; to be job creators and not job seekers and to be change agents in your communities. PUEA is an innovative and academically progressive Institution of higher learning guided by the motto, ''Finding New Paths.'' We believe that even before graduating, you will have acquired the strategies and skills to enable you find new path for the betterment of your lives and society.
I also want to emphasize the importance of TIME and TIME MANAGEMENT.
Time is the only resource given to all by God. Students greatest challenge is time management. Poor time management could be a major source of stress, frustrations, conflicts and indeed regrets in life. I encourage you to plan and spend your precious time in regular studies, discussions and extra-curricular activities. This will improve your academic and social life while shaping your future.
Lastly, as students, you are bound to make friends in your interactions as you pursue your studies. The people you associate with may influence and shape your destiny. I advise each one of you to choose friends wisely. I also encourage you to take time to acquaint yourselves with the social environment and surround yourself with people who will inspire you positively.
With those remarks, I wish you the most fulfilling and rewarding experience at this University.
Once again, a very Happy New Year, welcome and God bless you.
Prof. Timothy H. Gatara, PhD.
   VICE CHANCELLOR